Hope of Life Update, Mar 19-26, 2016!
Join in prayer and support touching lives for Jesus!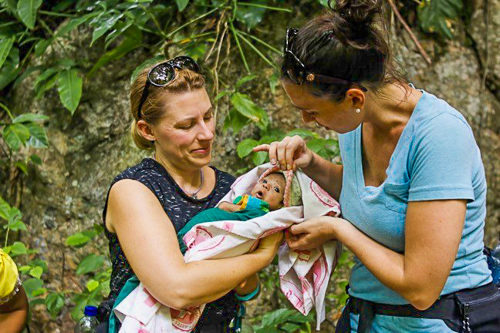 Guatemala Update and Prayer Requests
March 25, 2016
Guatemala Mission 2016 Blog Entry #7:
"Cucos Para un Día Caluroso" or "Cucos for a Hot Day"
The morning saw us split up again. I went to Kelly's House to check in with the special needs kids and David came along to get measurements for the facility for his project there. Another group went to paint more at the hospital and another went up to the orphanage.
Kelly's House was eye opening for me, because the more time I spent there the more my heart broke for these special needs kids. They need more trained caretakers, physical therapists, and speech therapists. But as it is now they are understaffed and the staff they have is not educated enough to handle the children they care for. Kelly's House has a lot of great equipment that has been donated but it is sitting unused because they don't have professionals to teach them to use it. That is something I'm praying for specifically. And also I had to remind myself when looking at the special needs kids (most of whom were disabled by malnutrition) that God doesn't make mistakes. They are perfectly made.
Now. To address the title. Cucos is a magical frozen beverage/popsicle that comes from an old lady that lives right outside the gates of the Hope of Life compound. This is the team beverage of choice. It is amazing. Really, I can't overstate this. All kinds of flavors including oreo, pineapple, chocolate, coffee, and lemon. It's amazing. Anyway, we had planned ahead to purchase cucos for the elderly at the old folks home for today and we brought it to them and sang and hung out with them. They were delighted.
All in all we had a great day. We ended our trip on a high note (and a hot note- today was the hottest day yet). We'll be traveling back starting at midnight. Keep us in your prayers!
<><><><><><><><><><><><><><><>
March 24, 2016
Guatemala Mission 2016 Blog Entry #6:
"Painting Party at the Hospital"
(blog title by Lisa Johnson)
Today was a full service day at the hospital. We painted all day and completed six rooms on the main floor used for baby and young children's care. This is where they bring the malnourished babies to nurse them back to health. It was a project that sorely needed doing, and we were happy to help. The colors were white and mustard yellow (or canary yellow if you ask Lisa, who insisted I list the colors). Becky and Lisa also got high on paint fumes today. (None of this is super necessary information, but I thought you guys would enjoy the mental images.)
A small group of us decided to climb the stairway to heaven (I don't think anyone calls it that, but I am because it was the most stairs I've ever seen in my life). Becky, Cason, David, and I (Nicole) got up before sunrise and set out to climb the mountain via the stairs so we could watch the sunrise from the top of the mountain. Somehow we managed, and were rewarded with a breathtaking view of the valley. God is an amazing artist- his creation is glorious.
"Your word is a lamp unto my feet and a light to my path." -Psalm 119:105
<><><><><><><><><><><><><><><>
March 23, 2016
Guatemala Mission 2016 Blog Entry #5:
"Mission: Miscellaneous"
We were all over Hope of Life today. We started the morning with a tour of the campus and got to see the fruition of some projects Christ Fellowship teams had previously worked on. Kelly's House is looking amazing, as is the Auto Shop/Vocational school. The orphanage is huge and has expanded into a house program for family living for the kids who are school age.
Our group split after lunch and worked on assorted projects. David worked on a generator somewhere, some people went down to Kelly's House to play with the special needs kids, and the rest of us worked on helping Marissa with a project for the hospital on campus. God has definitely been teaching us about flexibility on this trip!
We also met a long term missionary from Nashville (also named David) who blessed us with his testimony. We ended the day around a fire that blew smoke in all of our faces because it is incredibly windy here. (The fire was Jordan's idea. Our prayer time was filled with coughing because of Jordan. In her words, "It seemed like a good idea at the time.")
Lots of love from Guatemala!
The Lord has done great things for us and we are filled with joy. -Psalm 126:3
<><><><><><><><><><><><><><><>
March 22, 2016
Guatemala Mission 2016 Blog Entry #4:
"Medical Missions"
Today we had the opportunity to return to San Nicolas and set up a clinic. We are so blessed to have 3 people with nursing backgrounds on our team this year! Becky, Jill, and Monica were able to set up stations to distribute basic medicine, diagnose problems, and give the kids vitamins. They had help from several translators, a doctor and pharmacist who were able to join us today (and Marissa was very helpful too- especially in giving the children the deworming medicine).
The rest of us worked to entertain and evangelize the children while parents were waiting to be seen. This turned out to be quite a challenge- they were very high energy and the translators were busy helping with the clinic so we were on our own for communication. But God was good! We were able to present the gospel and hand out tracts that the children were very receptive to. I had a child come up to me at the end, hug me, and thank me in English for his tract. What a blessing to see children so excited to receive the gospel!
We returned to Hope of Life and had the party they have for all the weekly groups. (Usually it is closer to the end of the week, but it was moved up to accommodate the holiday of Holy Week.) They put on a great presentation for us and then told us about the sponsorship opportunities they have for us. Here is just one example of the kinds of beautiful kiddos you can expect to see available for sponsorship soon!
And we also just had a lot of fun! (Also as an update, Leanne is feeling much better today! Thanks for the prayer, please continue!)
"I can do all things through Christ who strengthens me." -Philippians 4:13
<><><><><><><><><><><><><><><>
March 21, 2016
Guatemala Mission 2016 Blog Entry #3:
"Planting Seeds in San Nicolas"
Today we returned to San Nicolas. It has been such a blessing to partner with this village because the people are so sweet and loving (especially the kids!). When we pull up to the school the children start screaming as soon as they see us. We already experienced the kids enthusiasm for playing games yesterday, but today we got to see their school and playground. We were able to plant trees from Hope of Life in their garden and then ventured into the village to let people know about the clinic we are having tomorrow.
After a pleasant morning in San Nicolas we drove to the dump to assist with a feeding. Many of us who have been before were excited to see a shorter line for feeding. This means people are finding work and children are getting sponsored so they don't need to come as much anymore. What a joy that we get to see the result of God's work through Hope of Life! (Photo courtesy of Iona)
Then when we got back to Hope of Life we all split up to do different things. Some went to the old folks home, some sorted medical supplies for tomorrow's clinic, and I (Nicole) was able to go up to the orphanage (with Lisa, Jordan, Audrey, Monica, and Marissa) to see the kids and Marissa's house. It was a huge encouragement to me personally to see the amazing work they have done on the orphanage. The building that houses the preschool aged children is the one we were building the last time I was here (in 2013). Now it is complete and beautiful! The whole orphanage compound is so breathtaking I was overwhelmed. God is so good.
David worked to run a power supply to a water filtration system in Sina Neca with a team from Liberty University. The project was completed successfully and the system will be christened and dedicated on Wednesday.
Jill has recovered from her stomach bug and is healthy now, so thank you for your prayers! However Please keep praying for protection from illness and injury for all of the team.
"In His Heart a man plans his course, but the Lord determines his steps." -Proverbs 16:9
<><><><><><><><><><><><><><><>
March 20, 2016
Guatemala Mission 2016 Blog Entry #2:
"Pato, Pato, Ganzo"
We have had a very full day! The team started the day with prayer and a wonderful church service in a nearby village. They had us share music- this provided a perfect opportunity for Betsy and Iona to share a song. They sang "Build Your Kingdom Here" accompanied by Travis.
We also got to go to San Nicolas and set up an Easter egg hunt for the children there. While the team was hiding the eggs for the kids to find, David got the kids started on a rousing game of "Pato, Pato, Ganzo" (or as it is better known in the states, "Duck, Duck, Goose!"). Both activities were a huge hit with the children. They were really excited to have us there because that village isn't able to get as much attention as it is so far out (about 45 minutes from Hope of Life campus). We are going to inquire about helping improve their water supply while we're here, so keep that in your prayers.
Once we got back to Hope of Life in the afternoon, some of us were able to go up to the hospital and visit the babies. The
baby on the right is Alex, and he was just rescued last week. Even though he looks like a premie, he is one month old. He is doing very well in the care of the Hope of Life staff here, and we are so thankful for his rescue.
You can join us in rejoicing for God's divine providence and opportunities. He has already shown us that He is at work amongst our team. We discovered that another team that is here had need for an electrician, and by God's grace we have a very capable one with us! David Smith will be helping to repair a water treatment plant about a 2 hour drive from us tomorrow, while the rest of us are serving in San Nicolas again. We are so grateful for this opportunity for him to use his unique skill set to serve while here. This other team was also able to help our nurse team prepare their medical clinic! We are definitely seeing the Lord moving here.
Thanks once again for all your continued prayers and support. We do have one team member with a stomach bug (Jill) so please remember to continue to lift us up daily. Be encouraged to serve the Lord this week along with us! Contact April Hyde for details.
Lots of Love from Guatemala!
<><><><><><><><><><><><>
March 20, 2016
Guatemala Mission 2016 Blog Entry #1:
"Travel Day Trials"
As many in the Christ Fellowship body may have noticed from all of our prayer updates leading up to this trip, we have encountered some difficulties. Those difficulties continued today.
However, God is good. And we have arrived safely in Zacapa, Guatemala at Hope of Life. Marissa met us at the airport and we made it.
Along the way we encountered some issues trying to get out of Guatemala City (we were derailed by nuns and priests) and an accident that had us stopped for an hour and a half or so; bringing our drive time in Guatemala to about 5 hours. But we are all safe and sound and so ready for bed.
We appreciate your prayers and cherish your support.
God bless from Hope of Life!
Blessings,
Nicole Thomas
<><><><><><><><><><><><><><><><><><>